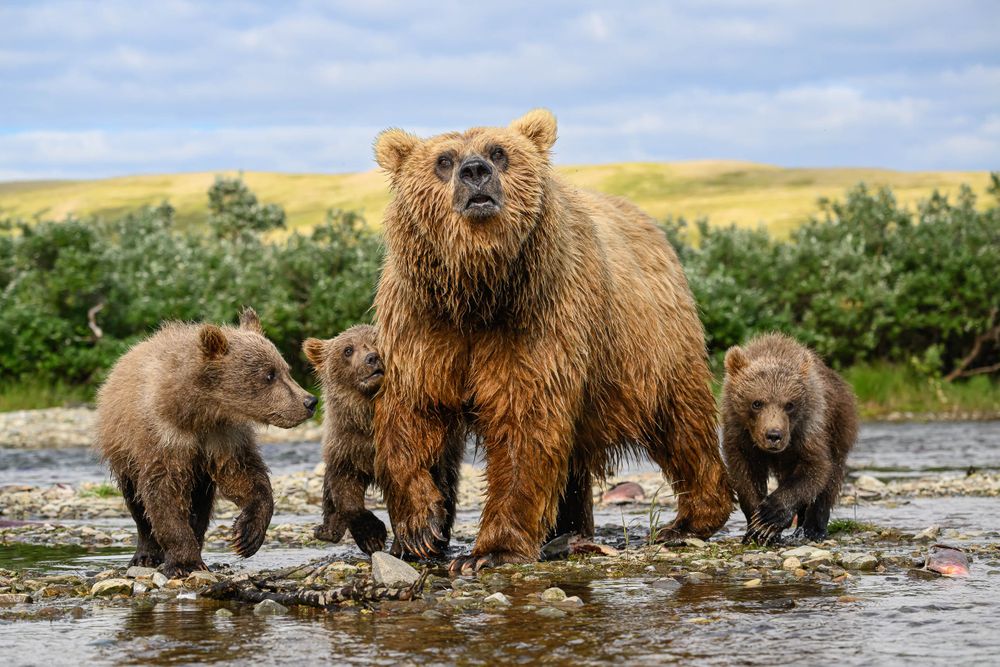 How to choose an Alaskan bear photography workshop
Have you always dreamed of seeing and photographing Bears in Alaska? Alaska has long been known as the best place in north America to photograph Brown Bears, but with so many different options and locations how do you narrow down which best suits your needs?
The first thing to know and accept is that photographing bears is expensive. Sure, you might get lucky with some quick roadside shooting in Yellowstone or Glacier National Parks, or during an Alaska road trip, but as with any subject the more time you have with the subject the better your photos will be. There is just no way around the fact that to spend quality time with bears you need to go to one of a few specific locations where bears are used to seeing and interacting with humans in a safe and positive way… ie. they mostly ignore the humans while they go about their daily lives. In addition to the right location having a knowledgeable guide is key to understanding bear behavior and staying safe. Beyond keeping you and the bears safe, a good guide will also understand photography and be able to predict bear behavior putting you in the best locations with the best angles before the action even starts.
While other locations do locations exist, without question the most popular and productive Alaskan Brown Bear photography happens in Katmai National Park. While still attached to the Alaskan mainland, Katmai National Park is at the base of the Aleutian Islands and is quite remote. There are no roads into the park, and you must fly via private plane or take a boat to reach the park. While the transportation costs to/from the park are expensive one of the benefits of this isolation is that it remains one of the last fully intact ecosystems in Alaska if not the entire world. Entire watersheds remain undeveloped, and it plays host to some of the most productive salmon runs remaining in the Americas. While all options are expensive there are a few different ways to visit the park for bear viewing/photography.
Often crowded with tourists, Brooks Falls is perhaps the most well know bear photography location on the planet. With the classic bear standing in the waterfall catching a jumping salmon shot, it is a dream location for many if not all wildlife photographers. Who wouldn't want to stand in the footsteps of photographers like Tom Mangelsen and get their own version of this classic shot? But don't expect to have anything close to a solitary wilderness experience, when the salmon are running expect to see hundreds of people lining up to get the "shot". In addition to the day visitors who fly in from Anchorage or Homer for just a few hours, there is also a lodge and campground that are typically sold-out months in advance. Viewing or shooting bears at the falls happens from a raised platform on the riverbank, where when crowded a park ranger will limit a person's time on the platform to make space for all the photographers. Sound like fun? Not to me! Fighting other photographers for an angle with a clock ticking? Good photography takes time and having a clock ticking just makes it stressful.
Beyond Brooks Falls the most popular way to see/photograph Brown Bears in Alaska is to do a day flight from either Anchorage or Homer. Typically, Homer is the better bet as it is much closer to Katmai and thus far cheaper (plus the town of Homer is a wonderful place to explore in itself). While I said "cheaper", no bear viewing in Alaska is "cheap"… depending on the exact location and logistics, a day trip from Homer will cost somewhere between $1200-1500 a person in a tiny 4-8 seat bush plane. The flight lasts about an hour each way, and typically you will get about 4hrs on the ground with the bears. If you only have one day this is the way to go, and the advantage of a day trip is that the pilot will know where the bears have been most active and will take you directly to that location. Landing either on a sandy beach with balloon tires or with floats on a lake, it gives photographers great access to much of the park. The downfall is of course your time is limited and will typically be mid-day when the light isn't the best and the bears are less active (especially if it is warm). You will also be limited on the amount of extra weight/camera gear you can carry (sometimes as little as 20lbs). That being said, the fun of flying into a remote Alaskan lake in a tiny bush plane is and amazing experience in itself and for many people just seeing the bears for a few hours is a lifetime dream. As with all tiny planes in Alaska, weather unfortunately plays a huge part in the success of a flight. Trips often get canceled or delayed for days due to low clouds, fog, wind… which can either mean your trip never happens or your 4hrs on the ground gets cut short because of incoming weather.
If you really want to get serious about your bear photography, your best bet is to stay somewhere within the park for a few days. Unless you are willing to camp (more on that later), there are really two ways to make that happen. By far the most common method is flying via float plane into a remote wilderness lodge where guides will take you out on foot, ATV, boat, or even short flights each day to photograph. This can be very productive because you are on the ground with the bears for many more hours each day than a typical day trip and as a result you have time to get to know bear behavior and work in better light. Often you will also be able to photograph in early morning or late evening light, vs the mid-day light of the day trips. You will also eat great food and sleep in a comfortable bed each night (there might even be a hot tub). The downfall of lodge-based trips is that while comfortable you are often limited to shooting near the lodge and thus your backgrounds are often the same each day (less diversity in your photography). While some of the more expensive lodge-based trips might also include flights to other nearby locations don't forget that flights can be grounded for days due to bad weather, so be prepared if it doesn't happen. Also, often meals are served at set times and groups must fly back to the lodge before dark (so no sunset/sunrise shooting at fly in locations). Don't forget that you may still be limited on weight for the float plane flight to your lodge. Despite these limitations, lodge-based trips are very popular.
Though not as common as lodge-based trips, by far the most productive and cost-effective way to photograph bears is a boat-based trip along the Katmai coast. Like a lodge-based trip you will eat good food and sleep in a comfortable bunk, but each day you will be in a new location as the boat sails along the coast. A typical day will consist of two 6-8 hour shooting sessions timed for great light. Often leaving the boat before first light to shoot sunrise from shore and taking a mid-day lunch/siesta when the light is harsh. Going out again in the late afternoon and staying on shore through sunset. While expensive a boat-based bear trip is by far the best value for the money in terms of actual hours shooting bears each day. Remember this is Alaska and during summer the days are long. Often there is still enough light to be shooting at 10pm long after the day trippers have flown home for the night. Because there is no set schedule if the action is happening the group stays on shore shooting and the boat/meals wait. The boat and crew are working for you and as a result meals are served based around the action in order maximize shooting time. One of the biggest advantages of being boat based is the ability to move the boat even during lunch to a new location for new backgrounds and different bear behavior. Plus, with no flights you are free to bring as much heavy camera gear as you want as there are no weight restrictions. Dollar for dollar boat-based trips get you the most shooting hours per day in the field with the widest range of backgrounds of all the options, and when broken down the per day price is often far less than days flight over from Homer.
Camping… There are a couple of other options for people hardy enough to attempt it. First you can enter the lottery to visit McNeil River, which while not the classic bear catching the salmon shot of Brooks Falls, McNeil is a great location often with so many bears feeding in the river it is hard to choose which one to shoot. Sadly, the chance of winning a permit in the lottery is quite low, but if you do win you will camp near the river inside an electric fence and each day walk with a ranger to the viewing platform along the river where you must remain until the viewing time is over (you can't walk around looking for other angles).
The other camping options are to join a camping-based tour offered by just a few select people (I can offer you advice if you are interested) or charter a flight and camp on your own. In 2022 I camped solo for a little more than a week at an amazingly productive salmon river deep within the park. But be warned, organizing your own camping-based shoot should only be done by people with many years of backcountry and bear experience. Locations are harsh, and once the plane leaves for Homer you are on your own no matter what happens (walking out is not an option). Be prepared with extra food in case weather comes in and you are stuck for as much as an extra week. During my trip I had a satellite messenger and was able to receive a message from my pilot saying a week of bad weather was coming and he needed to pick me up a couple days early. If I hadn't gotten his message, I would have been stranded for at least an extra week in horrible weather that could have been quite dangerous.
No matter if you choose to fly in for a single day or spend a week on a boat, a trip to Katmai is a lifetime experience. There is no question that experiencing Brown Bears up close in a safe and respectful manner effects the soul. It goes far beyond photographs, and changes people. I have seen many grown men (including myself) brought to tears by the experience of sharing a meadow or riverbank with these amazing animals. Being in their habitat on their terms is something that you will never forget. While yes, a boat trip is by far the most photographically productive, even 4 hours on a day trip will change your life. So, buck up and spend the money, you won't regret it.
For more information about my upcoming bear workshops visit my website here.
Photographing Bears of Katmai National Park
Come along on one of my bear boat workshops along the Katmai Coast and see what the fun is all about. The video follows the group as we sail from Homer to Katmai and then spend a week photographing Brown Bears.
Bear Photography Gear
A quick video about the gear I use to photograph Brown Bears while camping in Alaska.