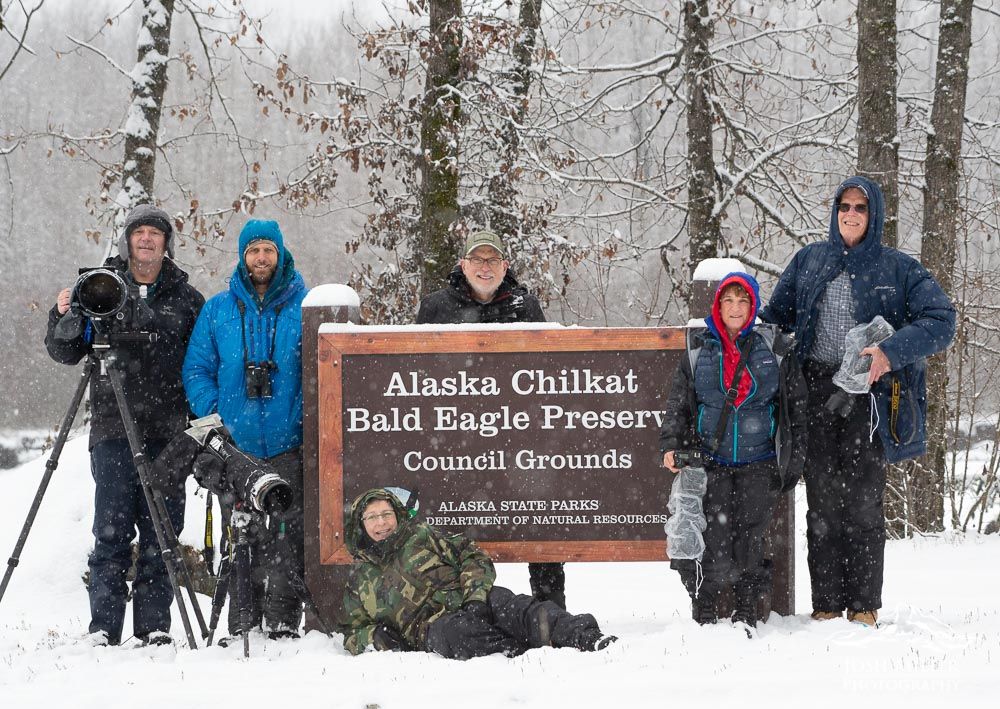 Join award winning professional nature photographer and instructor Josh Miller in the search for amazing light and wildlife. From photographing Bald Eagles in Alaska, to the high peaks of the Sierra Nevada, and the frogs and butterflies of Costa Rica, Josh's workshops will help you learn what it takes to come home with truly unique and amazing images.
As a former science teacher and workshop instructor I firmly believe that the goal of good teaching should be to help students become self-thinkers and self-learners. This concept applied to photography means that I want to help empower students to find their own images and realize their own artistic visions. I believe that a successful photography workshop begins with a fun, laid-back atmosphere that creates a healthy environment for students to ask questions and try new techniques.
In workshops I focus on my students' images and questions rather than my own need to produce images. All too often I hear horror stories about workshop instructors using the paying clients to cover the costs of their trips to some exotic locale and then ignoring their students once they are on location. In contrast, I work with students in small groups of no more than six students per instructor in order to help my clients master the technical (camera) side of photography and more importantly, find what makes them feel fulfilled as artists.
What is the difference between a photo workshop and a photo tour? A photo tour is a group of like minded photographers who visit an area with a guide/driver who offers little photo instruction and often sits in the car while clients are photographing. While a good photo workshop is a much higher level trip where the leader works directly with the clients both in the field and during image review sessions to make the most of each shooting opportunity. A good workshop leader is a good guide, good photographer, good listener, and good teacher!
_______________________________________________
"All of Josh's help is constructive, supportive and provided strictly for the enrichment of his students. Josh has the rare ability to put his students' needs above his own. I have always learned an amazing amount while working with Josh and would enjoy each and every opportunity to work with him again in the future." D. Angus
"It was an amazing trip, and I wouldn't trade it for the world. Great times, great company, and great instruction! If anyone is thinking about taking a class from you, may I tell them how highly I recommend it" M. Determan
"Josh Miller is an enjoyable and patient guide both in the field and during classroom instruction. His teaching techniques are practical and fundamental to every photographer whether you are a beginner, intermediate or an advanced shutter bug. I have had the privilege of working with Josh in group settings and one-on-one instruction within several locations, include the Eastern Sierra Region, Yosemite, Tahoe and Table Mountain. If you are considering going on a photographic workshop I highly recommend the talents of Josh Miller." C.Kent
Workshop Policies
Payment
Workshops require a 50% non-refundable deposit to hold your spot. With the final balance being due at least 90 days prior to the trip. If possible full payment at signup is appreciated as it simplifies accounting and me needing to remind people to pay their balance. Shorter single day workshops like Lake Tahoe require full payment at signup.
Payment methods can be Venmo (preferred), or check. I can accept a credit card, but with a 3% credit card fee. Failure to pay workshop balance 90 days prior to start date can result in being dropped from the workshop without a refund.
Refunds/credits
I pride myself on running workshops in locations I know well, and have visited and scouted prior to the course. As a result, a significant amount of time and cost that goes into creating a quality workshop before it even starts. Thus, workshop deposits are non-refundable in order to help cover these costs, that being said I understand that things happen and sometimes it just isn't possible to attend. In these cases, I'll make every effort to find someone to fill your spot (maybe you know someone who wants the spot?). If it's possible to fill your spot then I can refund your payment or roll it over to a future workshop (preferred).
Trip cancellation and Covid
Workshops run in all weather and will not be canceled due to conditions. The best photos usually happen when the weather is at its worst. That being said if a workshop must be canceled due to natural disaster, global pandemic, or other events beyond my control I will make every effort to reschedule the trip as soon as it is safe to do so. I will not refund any travel costs incurred due to these unexpected changes, so I highly recommend travel insurance.
If a workshop cannot be rescheduled and thus must be canceled due to unforeseen circumstances I will offer a full refund or credit toward a future workshop (preferred). Honestly if Covid taught us anything, it's all about doing the right thing and having patience when travel plans are disrupted. My clients have been wonderful during the pandemic with rescheduling and trip postponements. If something like this happens again I'll make every effort to make things "right" because it is the "right" thing to do.
In the event that illness, injury, or family emergency makes it impossible for me to lead a workshop, I will make every effort to find a qualified substitute and still be involved as much possible. If a qualified substitute isn't available from my long list of photo guide associates, and I am forced to reschedule a workshop you will be given the option for a refund or to join the new date.
I will not refund any outside costs incurred due to a workshop being rescheduled or canceled such as, but not limited to… airfare, lodging, car rental, meals… I have never canceled a workshop and while the possibility is very unlikely, but I strongly recommend you purchase travel insurance just in case the unforeseen becomes a reality.
Spouse non-photographer friend policy
A spouse/non-photographer is only allowed when:
1. I have space on my Commercial Use Authorization (guiding permit) if one is needed for the trip.
2. They are rooming with paying member of the trip in a single supplemented room. i.e. the workshop participant may need to pay extra fees for a private room or extra fees to have a second person stay in the room.
3. Only paying clients are allowed to attend class sessions, slideshows, field sessions/shoots, ride in trip vehicles…