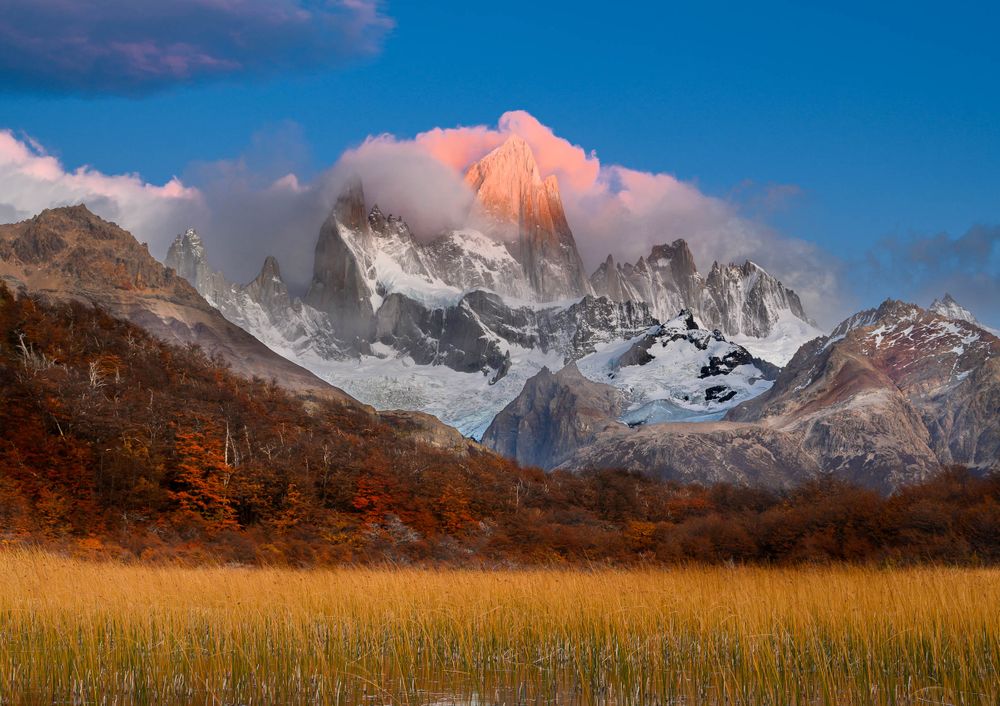 Last Sunrise in El Chalten
During our big South America trip this past year we spent nearly three weeks staying in a tiny A-frame cabin in El Chalten, hiking and shooting fall photos every day. Towards the end of our time in El Chalten, I was hiking back from Laguna de Los Tres with my family when I decided to explore a small off trail valley to see if there happened to be any standing water that could make a good refection of Fitzroy. To my surprise not only was there a small pond, but it lined up perfectly with the Fitzroy skyline. Having never seen any photos from this location I knew it would make for an amazing sunrise photo with the right light and no wind.
Seeing minimal wind forecast for the next morning but quite a bit of cloud cover, I took a chance and hiked up the next day in the dark with my brother in-law Cristian and his best friend with the hope the clouds would break at sunrise. After scouting the pond and finding my composition we settled down to wait. Wearing all our layers, we huddled on the ground in the below freezing temperatures hoping for sunrise light Fitzroy. After two hours of waiting and shivering we couldn't hold out any longer and decided to head back to town (a strong showing from Cristian who lives in warm Orlando). As we passed all the morning hikers headed up hill in their t-shirts, we were so cold we wore all our layers the entire way back to town.
After several more days hiking and exploring the mountains of El Chalten with no weather windows, I was starting to worry that I wouldn't have another chance to shoot the pond before we had to leave. Finally, on our last full day in town I decided to go for it despite the forecast calling for wind and thick cloud coverage that wouldn't break until well after sunrise. Not ideal conditions for a reflection photo, but knowing it was my last chance I rolled the dice hopping things would clear a bit earlier than forecast and maybe there would be a quiet moment between gusts of wind that I could see the reflection. Jen and Cristian wanted to do a day hike along the Rio Electrico farther north and didn't want to wait for me to return from sunrise before catching a taxi north for their hike. So, we made plans that after sunrise I would hike north and try to meet them at the Piedra Del Fraile hut by early afternoon.
Again, hiking up in the dark carrying every layer I owned plus a borrowed dirty down jacket, I arrived at the pond just before sunrise. With the wind howling I knew getting a sharp photo was going to be difficult (especially considering I was only using my tiny lightweight 2lb backpacking tripod). Choosing to not extend the lower leg sections, I setup my composition and then hung my backpack from the tripod center column to help make it more stable in the wind. Taking precautions against the wind I chose not to leave my camera on the tripod while I waited. With lots of cloud cover to the east the chance of the sun sneaking through at sunrise was low, but I have always lived by the motto if you don't try you have already failed. I firmly believe that you make photographic luck by being out there in the field when the chance of success is low, but the possible reward is great.
This was one of those cases. After waiting for perhaps 45min hiding from the howling sub-freezing wind behind a small bush, a tiny bit of light started to creep through the clouds. Quickly I ran to my tripod and mounted my camera. Talk about being in the right place and stacking the photographic odds, the peak moment of light only lasted about 30 seconds and I was only able to shoot 5 frames before the light faded and Fitzroy was obscured by clouds. During those 30 seconds I was completely lost in the moment with no time to think, and I just operated the camera on instinct. Sort of a photographic final exam, creating from the subconscious without thinking.
Elated by my 30 seconds of light I again huddled behind the bush hoping for more light. After waiting another 45 min the light returned but wasn't the saturated alpenglow of sunrise. I shot a bunch of different compositions taking advantage of moments between gusts of wind for reflections and wider shots. But nothing compared to those 30 seconds of alpenglow earlier in the morning. As the sun reached the pond, I put in my headphones with U2's The Joshua Tree and hefted my pack to begin my 23km hike farther into the mountains to meet my family.
For the next few hours, as I hiked alone under the dramatic Fitzroy skyline the skies cleared and the wind died, and it turned into a perfect warm fall day. Passing through dramatic fall forests with views of the Piedras Blancas Glacier, and eventually crossing Rio Blanca and following the Rio Electrico west, I caught up with my family just short of the Piedra Del Fraile hut. After a short break and wonderful lunch of cheese, salami, crackers, apples, and carrots we hiked the remaining 12km back to the road in time to catch a ride back to town. All told I had hiked somewhere close to 45km that morning.
After three weeks of hard hiking and nearly 21 days straight of alpine starts, I was exhausted, my feet hurt but my heart was full. After dreaming of Patagonia since I was a kid, I had finally gotten my chance to not only visit but get to know the area beyond the "classic" locations and sharing it with my family made for a truly amazing experience. Our boys had hiked every trail multiple times, seen sunrises, endured crazy winds and snow, "enjoyed" several floods in our cabin, and even seen a few Andean Condors. I couldn't help laughing as our boys instantly fell asleep in the back seat of the taxi as it drove the dirt road back to El Chalten. A perfect ending to a place that will remain in my heart as of my favorite parts of our entire round the world trip (not to mention one of my favorite photo locations of all time).